Meet the staff of Northglenn Optometric Center! We are passionate about serving our community in the field of Optometry. With both old and new faces we work as a great team to provide the city of Northglenn and it's surrounding cities specialized individual care and a family friendly environment. Come in and say hello to us!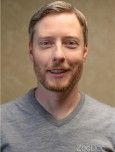 Dr. Kenneth W. Headington received his Bachelors of Science in optical engineering after serving his enlistment in the United States Air Force. His work in the community led him to attend the New England College of Optometry, where he additionally holds a Masters in Vision Science in the field of Adaptive Optics. He went on to complete a residency in pediatrics/vision therapy specializing in vision and learning as well as the treatment of traumatic brain injury and sports vision. Dr. Headington's passion in the field of optics has led him to pursue state of the art contact lens applications to advanced corneal disease and myopia control. He is an associate of the College of Optometrists in Vision Development (COVD) and a member of both the Colorado and American Optometric Associations. He enjoys outreach programs for vision care, mountain climbing, and ballroom dancing.
A Colorado native, Cori is our billing specialist as well as our most experienced front office staff member with 15 years of experience at Northglenn. She enjoys seeing returning patients each year, as well as welcoming new patients to the office. In her free time, Cori enjoys spending weekends at the lake with her family.
Ichi has been our lead optician for 40 years. Dr. McGuire brought him over from Japan in 1974. In his free time, he helps manager the Judo Club here in Northglenn.
Brynn is the Marketing Manager and an Optician at Northglenn Optometric Center. Though fairly new to vision care, Brynn has worked in customer service for over 10 years and is proud to be part of the Northglenn optics team. Brynn enjoys singing jazz at local open mic nights, bike riding, and dancing.